Connect the (invisible) Dots [P. 2] – Tangible dots:
As mentioned in part 1 when someone goes about the connection of (invisible) dots, one becomes unhinged from fear and is allowed to be an active participant of pursuing purpose, but what is an invisible dot? From a theoretical standpoint, as stated in part 1,
"An invisible dot… is that single, consequential, random moment of clarity which gives you a surreal and yet clear understanding of what you are supposed to do in this world."

– C. Neil Davenport. Part 1 of Connect the (invisible) Dots [Part 1]
However, that still doesn't give us a concrete answer. The best way to explain what an invisible dot can be will come from a blip of my life where I was a struggling to struggle as an actor. We go back to 2016 when I was studying film at Augusta University and wanted to see the Oscar bait film, La La Land. Through Augusta, Georgia is a wonderful town, it's not the best place to experience art, however just a few hours west, you can find a city saturated in it.
During my time in university, Drew Thomas, one of my closest friends, told me his cousin needed to be picked up from the Atlanta airport and wanted to see if I would tag along so we could see the film while there. After the restructure of my schedule, we made a road trip of picking up the cousin, getting groceries from H-mart and found a quaint little, four screen theatre called the "Tara" after typing into Google Maps, "arthouse cinema" [DOT]..
Fast forward a few months after graduation, I was living in Oklahoma as as an actor represented by Magna Talent Agency [DOT] and after the following 13 months, I earned enough on set experience to get noticed by MI Talent Agency in Atlanta [DOT]. Another contributing factor to this transition was due to another friend, Michael Fortino [DOT].
As Andy from The Office would say, "Oh, it is on, like a prawn who yawns at dawn!" I found myself moving to the Hollywood of the South ready to forward my career, but I counted my chickens before they hatched. In the early part of 2018, I resided in Marietta where a family friend didn't mind me sleeping on her couch for a week where I designed a game plan [DOT].
Find an apartment
Get employment
Easy, right? Nope! That family friend kicked me out for whatever reason, every job I applied for turned me down and I wasn't getting called for any auditions which was the whole reason for me moving to Hotlanta! Three weeks in, with the gracious help of my parents I lived in a hotel room. Let me rephrase that… I lived in a hotel room with my mom, my dad, my brother and our dog for three weeks while I pursued the list above [DOT].
Living situation: Anything within the perimeter of Atlanta will charge you an arm and a leg for rent, so that was a no-go and every roommate situation was horrible. I interviewed three potentials; The first was a nice old woman who lived in a home which smelled of mold, the second was a single parent with a noisy kid, and the third was later found out to be a registered child molester. So, the only option was to get an apartment outside the city, but I needed money.
Job situation: I had zero leads. My resume was filled with work experience from the age of 14, but no one wanted to hire me it seemed. Well, I also didn't have residency in Georgia at the time either… catch twenty two.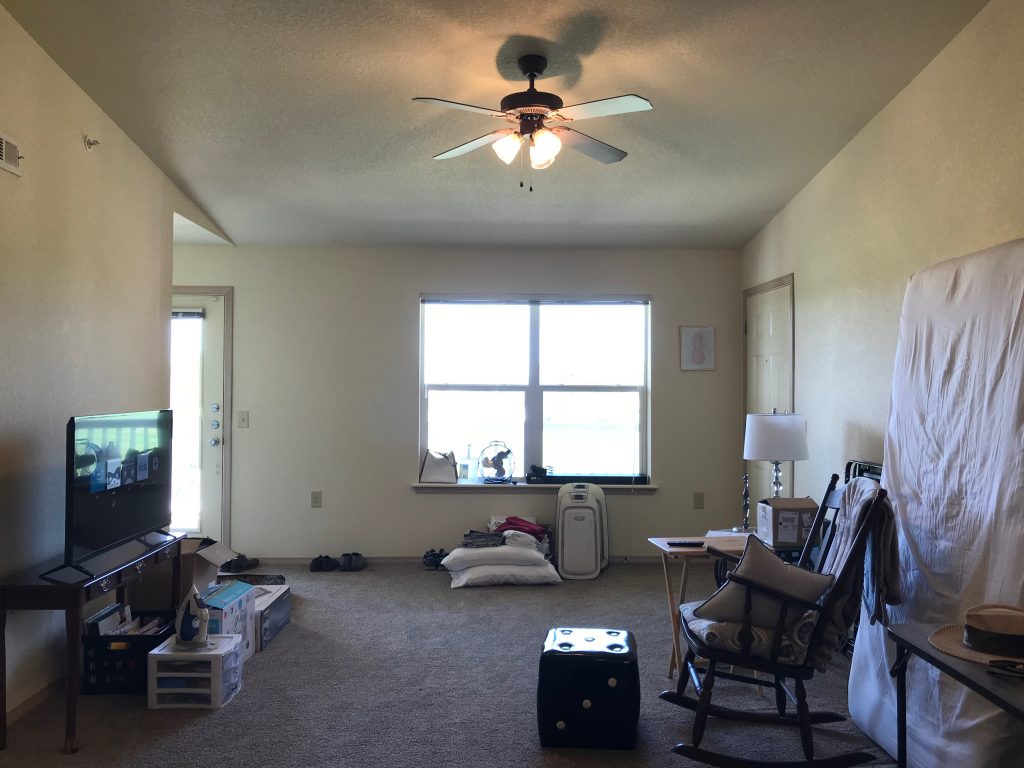 In addition to all of this, without mentioning names or titles, I was dealing with a legal situation with an unruly film producer who was trying to steal a script of mine, but that's neither here nor there now.
Anyway, I stumbled upon a job titled, 'Associate Manager – Regal Cinemas' and applied to it with the assumption that I wouldn't get it. Then on the day we were packing our suitcases and throwing in the towel, I got a call from the GM – Mr. Eddie Parrot. I printed out my resume, put on a suit, drove to the theater to find it to be the same place I saw La La Land at two years ago! During the interview, I told Parrott I had zero experience in a theater, but I am the man for the job! We actually sat down for 45 minutes and I simply told him my story. Soon after, I was offered the position and from that point on I worked and was promoted within the Regal Cinemas Company as a manager until the Covid-19 outbreak of 2020. I will always be grateful to Mr. Parrot for taking a chance on me which gave me my start [DOT].
While that was going on, without my knowing, dad reached out to a work acquaintance of his who lived in the area and I'm here to tell you, angels of this earth do exist. In fact, Elaine Weatherby's maiden name means 'angel' through her ethnic heritage, but there's no other way to describe her [DOT]. Weatherby allowed me to rent a room in her mansion by cooking, cleaning and walking her a cocker spaniel who I called 'Lucifer' as to help me get economically grounded. Because of that blessing upon this planet, I was able to obtain an apartment in Buford [DOT]. Sure, it was a 40 minute drive to work and back, but I didn't care.
As for the third step, I started getting calls for auditions, but unlike Oklahoma, I didn't get very many roles at first simply due to the surplus of competition. However, I did learned more about the tactics of the industry during this time. Being an actor in ATL is not about showcasing one's talents of improvisational memorized wordsmithing, it's a simple skill of beating the odds when it comes to supply and demand [DOT]. I will say it's one of the most unstable and inconsistent types of employment ever, but if you go at your pursuit with tolerance you just might get lucky. Take Fortino, mentioned above for example, he lived in Atlanta years before I did and to my knowledge the biggest role he had obtained was as a speaking extra on Netflix's, Stranger Things season three.
It is nearing the end of the year 2020 and I am residing in the Jacksonville area of the sunshine state and now under contract with a few production companies as a screenwriter, but I now where near the end of connecting all my dots. I'm still connecting, following and striving to figure out where they're leading me, but the point is that I'm in a constant state of pursuit. Within this post, there are several [DOT] examples spread out in the story and I hope you understand through it that there isn't a singular purpose of life. Yes, we all want to survive and succeed, but your purpose in life is ever changing and when pursued will morph into something better than you would have expected down the road.
Genuinely,

blog published in 2020