Mr. Peter Bogdanovich,
Whether advice is a positive statement or sarcastic undertone, it is a vital unit of life. It's a personal gift from one person to another as guidance for the future which can only be understood through life experience. The genuine essence of advice is the subliminal truth of pursuing happiness in that someone thought enough of you to give it. Like most young men, I'm tremendously grateful to be showered with advice from a number of professional individuals, but would like to share the first professional piece of advice given to me from American director, Peter Bogdanovich.
In 2014, I attended Augusta University's campus event, The Cinema Series. This is a monthly gathering of campus cinephiles who want to learn and celebrate the art form of cinema through invited industry professionals. That night was a screening of The Last Picture Show (1971) following a Q & A with Peter Bogdanovich. Tailing this event, I phrased my question as such, "Mr. Bogdanovich, as an aspiring filmmaker, how did you […]?" To this day, I don't remember my question. Back then, my questions were unorganized and resulted in my film professor telling me (for the proceeded three years), "Don't 'Neil' it up!" when my questionable hand rose in class. Anyway, Bogdanovich did his best to answer my bizarre question and followed it up to say,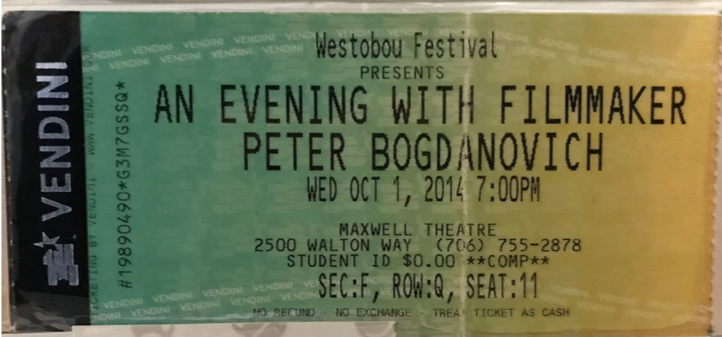 "You want some advice, kid? You want to be a filmmaker… never give up, but know you'll be dealing with a lot of sh*t."

– Bogdanovich (2014)
That was his advice to me and though I had no clue what he meant at the time being a student within an academic system which teaches occupational skills and nothing else, this moment for me was monumental in my developing life as a filmmaker. Mr. Bogdanovich was kind enough to give me unsolicited advice about the real world and it rings true every day.
So, if you're striving to be a filmmaker and life seems to constantly give you the backhand, I give to you the same guidance Mr. Bogdanovich gave me. Don't give up if you know you have a voice, but acknowledge nothing about it will be easy.
Genuinely,

blog published in 2018