If this finds you well Mr. Bogdanovich, know that I thank you.
Whether advice is a positive statement or sarcastic undertone, it is a vital unit of life. It's a personal gift from one person to another as guidance for the future which can only be understood through life experience. The genuine essence of advice is the subliminal truth of pursuing happiness in that someone thought enough of you to give it.
Like most young men, I've been blessed to be showered with advice from numerous loved ones to then have the volume turned up when I became a writer and though I'm tremendously grateful, I want to share the first advice given to me from a filmmaker. 
Before I share Mr. Bogdanovich's advice to me, first let me explain the difference between guidance given from a loved one and that of a filmmaker. The difference between the two is motivation. The loved one willingly sharing a bit of knowledge on how the world works is a volunteer. Primitively, they care about your wellbeing which causes a lengthy core explanation of what they're educating you on. Sometimes we need to be told to smell what we are stepping in… Sometimes a spoon-fed interpretation is a necessity, but when it comes to filmmakers and how they structure their advice is like looking at a Jackson Pollock abstract expressionistic painting. Meaning, their guidance is what I like to describe as being "specifically vague." Two things you must understand on why this is… Unless they are a friend, a guru, your mentor or a co-worker, their advice is mostly solicited via their success. Therefore, through no fault of their own, there's no need for them to care about your wellbeing.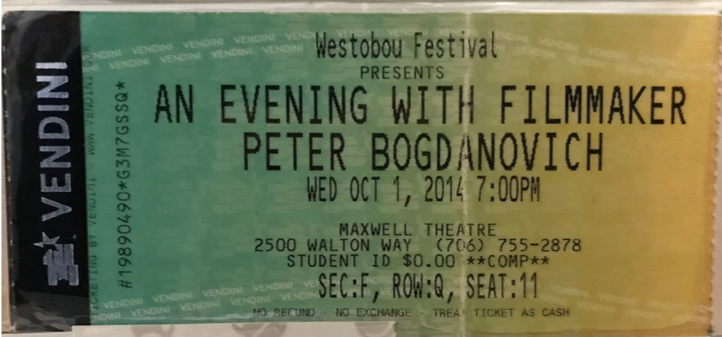 In 2014, I went to Augusta University's campus event, 'The Cinema Series.' This is a monthly gathering of campus cinephiles learning about the art form of cinema through invited industry professionals. That night was a screening of The Last Picture Show (1971) following a Q & A with Peter Bogdanovich. Tailing this event, I phrased my question as such; "Mr. Bogdanovich, as an aspiring filmmaker, how did you […]?" To this day, I don't remember my question. Back then, my questions were unorganized and resulted in my film professor telling me for the proceeding three years, "don't 'Neil' it up!" when my questionable hand rose in class. Anyway, Bogdanovich did his best to answer my bizarre question and followed it up to say, "You want some advice, kid?"
"You want to be a filmmaker… never give up, but know you'll be dealing with a lot of shit."
That was his advice to me and though I had no clue what he meant at the time being a student within an academic system which teaches occupational skills and nothing else, this moment for me was monumental in my developing life as a filmmaker. Mr. Bogdanovich was kind enough to give me unsolicited advice about the real world and it rings true every day for the past five years.
So, if you're striving to be a filmmaker and life seems to constantly give you the backhand, I give to you the same guidance Mr. Bogdanovich gave me. Don't give up if you know you have a voice, but acknowledge nothing about it will be easy.
Genuinely,